January Blog: Share The Love This Valentine's Day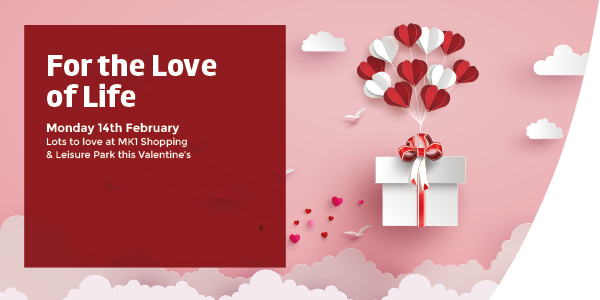 This Valentine's Day we are celebrating the Love of Life. Love can be shared with many different things; the love of a partner, love of pets, love of the earth and most importantly, the love of yourself!
Show your love this Valentine's with a little help from MK1 Shopping & Leisure Park. Discover our range of ideas below!
For the Love of your partner:
Let your significant other know just how much they mean to you this Valentine's Day with a romantic token of your affection from MK1 Shopping & Leisure Park. Show them how much happiness they bring to your life with a romantic meal at Bella Italia.
For the Love of your pets:
Don't forget to show your furry friends the love this Valentine's Day! They might not be able to enjoy a bouquet of roses but we have the pawfect idea for making sure your four-legged friend feels extra loved on the 14th of February. Get their tails wagging with the latest, stylish pet range at Primark.
For the Love of the earth:
If you fancy showing your love a little differently this year, there are a few sustainable ways you can still show your love that are sentimental but good for the planet! Instead of a bouquet of roses, get your partner a rose tree instead that can be planted and serve as a timeless reminder of your love whilst supporting the local wildlife! M&S have a great range in store to get you on your sustainable way.
For the Love of yourself:
We often forget that the most important relationship is the one we have with ourselves. Make sure you prioritise showing yourself some love this Valentine's Day and celebrate everything unapologetically YOU! Why not indulge in a good old' pamper session with the help of Superdrug.
We hope this has helped you think of thoughtful ways to show your appreciation this Valentine's Day and that your day is filled with nothing but love!
Click here to view the full list of our stores and opening times.
If you wish to receive similar content to this from MK1 Shopping & Leisure Park via email please sign up to our newsletter here.